Peerflix DVD Exchange Gives Old Discs New Life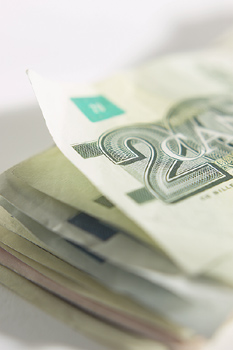 LOS ANGELES (Reuters)—With DVD sales expected to reach $21 billion next year, it may be comforting for consumers to know used discs now have a second life as tradable currency on a year-old Web site called Peerflix.
And at 99 cents a pop, the new commodities may threaten to erode demand for DVD rental services down the road.
Launched by two friends in Menlo Park, California, Peerflix went live a year ago last summer and has grown to 40,000 users in the six months or so that it has been widely available.
Peerflix is a trading platform that asks users to make lists of DVDs they want and DVDs they want to get rid of, then matches "wants" with "haves" for 99 cents a trade.
The company provides a mailing label with a tracking number and shipping envelopes. Users must pay postage.
Each movie title is assigned between one and three "Peerbux," based on their desirability. Users rack up Peerbux each time they ship a movie, and can then use their loot to purchase movies from other users. Or they can buy Peerbux for cash to get the cycle started.
Peerflix co-founder Billy McNair told Reuters that the potential market for DVD trading is enormous, with the company's research showing that 60 percent of the 4 billion discs sold over the past eight years were watched only twice.
"There is no meaningful secondary market for these assets," McNair said. "But (Peerflix) can, in a convenient, cost-effective way take DVDs and trade them ... for the DVDs they wanna watch. That's the foundational core for the business."
A PriceWaterHouseCoopers report shows that U.S. consumers are expected to spend $18.8 billion on DVD purchases this year, and nearly $21 billion in 2006. By 2009, DVD spending is expected to rise to $29 billion, the report said.
The Peerflix site clocked 10,000 trades in August and is set to nearly double that in September, McNair said.
Of the 65,000 DVDs available on the site, about 25 percent are unique titles, he said.
"We feel very comfortable that we are covering every mainstream movie people can think of," McNair said.
Wedbush Morgan analyst Michael Pachter said that while the company's growth "tells you that people have DVDs they want to get rid of," he did not see Peerflix as a threat to Netflix or Blockbuster, which also runs a trading service.
"I think the used market (for DVDs) is going to get huge. I'm just not impressed by 10,000 trades," he said. "It's free money for them and they're probably making good margins. But if the business is making $2 or $3 million, eBay will find a way to be in it."
Peerflix does not aim to compete directly with online retailer Amazon.com Inc. or online DVD rental company Netflix Inc., and McNair said his company may drive more interest in online DVD purchase and rental.
Netflix officials could not be reached for comment.
McNair would not disclose the company's revenue, but said it derives sales from both trades and the purchase of "Peerbux."
"Our revenue ramp has been substantial and has been terrific, exponential," he said.
Peerflix has obtained two rounds of venture capital financing, McNair said. Fortune magazine pegged those cash infusions at between $6 million and $12 million.
McNair said the company has drawn interest from other companies "trying to understand how our business works and what are plans are for the future."
"We feel we are building something that is going to be huge. We would be somewhat foolish to sell the business because it's early and we would be selling ourselves short," he said.